Portfolio
Our clients span the gamut in size and scope: from academic institutions of higher learning (like Florida International University) to national organizations like the Intercollegiate Sailing Association (ICSA), to name just two.
Fit for your environment#
At OpenWeb Solutions, we don't just excel at attractive, elegant design, but we are experts at matching an existing look and feel. The best part, our approach is consistently simpler, more standards compliant, and accessible.
Regatta scoring#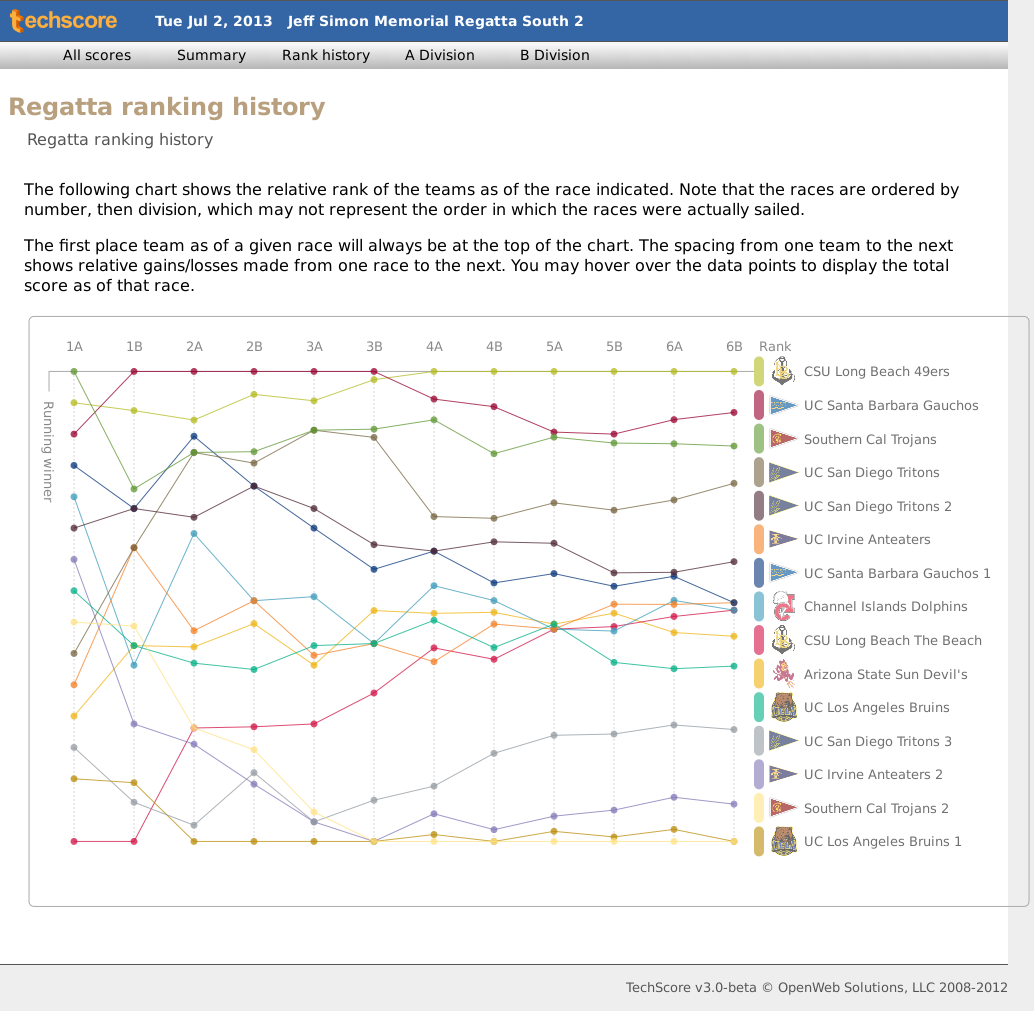 TechScore has become the official sailing-regatta scoring application of the Intercollegiate Sailing Association. It provides a centralized, GUI-based, scoring application and real-time score updates to a public site.
Technical achievements#
There are several features of the application that set it apart. For one, the private site (where the coaches interact with the program to enter scores) is kept separate from the public site where the world follows the action.
This separation is not just at the domain level: the two run on separate servers (actually, separate technologies altogether). This partitioning means that the private application is not subject to server loads created by interest in the public site.
The public site, in turn, is a static web site completely hosted out of the Amazon S3, part of Amazon's cloud offering. While many sites online rely on S3 to server some of their content, ICSA's scores site is revolutionary in that it is entirely served using that service.
This architecture ensures the greatest access to the public site, without compromising the scoring application. Because the output is static HTML, the public site is not succeptible to SQL injection or cross-site scripting attacks. And the load time is unmatched by other architectures.
Matched style#
The scoring component of TechScore uses an in-house-designed user interface, optimized for the particular needs of the application. Meanwhile, the public site's look and feel has been tailored to immitate ICSA's main site. The careful observer will notice how OpenWeb's attempt is cleanly structured, optimized, compressed, and provides accessible features that support visually impaired clients.
Desktop version#
We also developed an off-line, desktop version of TechScore which is available to anyone as a free download. As part of our ongoing commitment to our core values, the desktop version is also open source.